Every year, millions of fans across the U.S. gather together to watch two teams battle it out for a coveted title. So popular is the NFL Super Bowl that it has become an unofficial American national holiday. Reputations and millions of dollars are on the line, so owners and fans alike have high expectations of both staff and players. Football is a game of complex strategy and tactics so preparation throughout the entire season is critical. Every game and every team is different. Factors like weather and venue can impact performance. Coaches and players have to be ready for anything, and it all starts with a plan.
Football game plans are critical to the success of a team. They can mean the difference between a stunning win and a crushing loss. Coaches craft game plans with a deep understanding of the opposing team—strengths, weaknesses, and unique qualities. They consider historical data—what that team has done in the past and how individuals have performed in various scenarios. Game plans include plays designed to fit those scenarios with one goal in mind: to win. As each play is made, coaches learn something new and adjust accordingly. Without a plan, players go into a game blind. They are unprepared and unable to effectively do what they need to do in order to achieve defined goals.
The truth is, whether you're building a house, starting a business, or something else, any effort encompassing significant risk and opportunity is more successful when a carefully-crafted plan is in place.
Customer communications are no different. Whether intended to inspire, inform, or instruct, effective communication doesn't just happen. It takes careful thought and consideration. It takes a plan. Major brands realize this and that's why entire teams and/or agencies work on projects. Everything from content to delivery mechanisms must be decided, created, and implemented. Communications strategy and content architecture are valuable components of that process.
A communications strategy is a high-level plan that outlines recommended methods and channels for communicating particular messages to defined audiences in order to achieve clear-cut goals. It requires a deep understanding the target audience—personas, behaviors, preferences, buying tendencies, and usage patterns. It considers customer touchpoints throughout the lifecycle of a product and the type of information needed at each one. It integrates technology trends that might impact how a particular message is delivered.
Some studies suggest that the key to a positive customer experience is to give customers the right amount of information at the right time through the channel they prefer. A communications strategy helps achieve that by outlining the appropriate channels for different types of information in order to deliver what customers want, when they want it, and how they want it. This approach is referred to as Taste l Snack l Meal l Dessert.

What does this mean? Think about it as a 4-course meal:
TASTE: a sampling of what's to come, something to whet the appetite
SNACK: not yet the main course, a snack prepares your palette for it
MEAL: the entrée, complete with complex flavors and textures
DESSERT: that last little extra that tops things off and leaves you satisfied
Applied to a tablet, part of the communications strategy might include the following: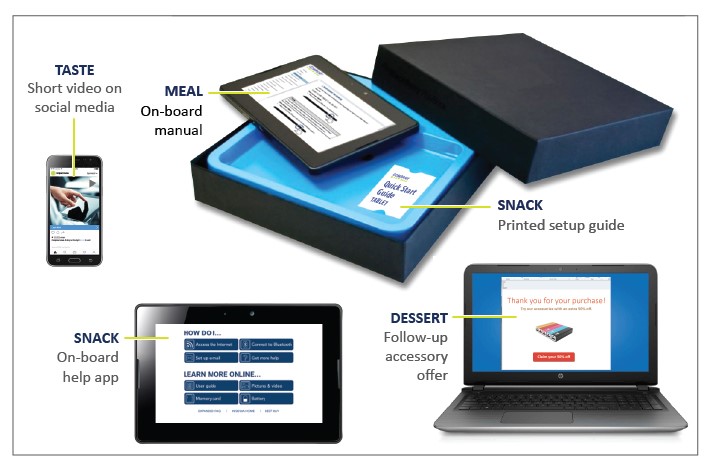 TASTE: a short marketing video on social media introduces customers to the new tablet. The video gives them just enough interest to intrigue and pull them in. Other "taste" tactics might include ads, packaging, and a website.
SNACK: a printed setup guide helps customers make basic connections, while an on-board help app helps them complete common tasks.
MEAL: an on-board manual provides detailed usage instructions right on the tablet and includes everything from customizing the screen and setting up parental controls to installing new software and advanced troubleshooting.
DESSERT: a follow-up email thanks customers for their purchase and offers a special deal on select accessories. Other "dessert" options might be direct mail or social media.
Content architecture is the tactical extension of a communications strategy. Both target the same audience but a content architecture plan details what information is presented within each communications piece. Packaging, product pages, social media, and documentation each have a unique purpose so content needs vary. Content architecture determines topics, organization, order, flow, and messaging appropriate to each. It considers visuals such as layout, fonts, and graphics. It sets voice and tone of each. Effective content architecture leverages data such as support call, returns, and review comments to make informed content decisions.
Using the tablet example, content architecture plans for each of the following communications pieces will share some similarities but the purpose for each will vary. A content architecture plan helps ensure that content meets customer needs at each touch point. For example:

Product page: starts with product name and description. Includes product and lifestyle images, maybe a video as well. Specifications, features, benefits, and online review comments might also be included to help buyers make an informed purchase decision.
Help app: by this point, the tablet has already been purchased and basic connections made. Information on accessing the Internet, setting up e-mail, and connecting to Bluetooth will help continue a positive experience by getting customers up and running, then showing them what they can do with their new tablet.
On-board manual: clear, concise, and in-depth instructions about changing settings, connecting to a computer, downloading an e-book, managing contacts, and more will help customers continue to get the most out of their new tablet.
Communications strategies and content architecture plans can take many forms, from a Word or Excel file to a PowerPoint presentation. The form factor isn't nearly as important as what's contained within each and the benefits that both bring to customer communications:
Helps businesses achieve communications goals by providing target audiences with what they want, when they want it, and how they want it.
Drives customer engagement, increases market share, builds trust, credibility, and brand loyalty, and invites new, exciting ideas from those who matter most – your customers.
Keeps document content focused, on track, and in line with overall goals. What is the purpose of each piece? Is it to inform? Instruct? Inspire or persuade? Different purposes demand different content.
Saves valuable time and money with proper resource management because everyone knows their own roles and responsibilities
Ensures consistency and ongoing communication to build an unswerving brand message that deepens engagement and loyalty.
With regular review, gather critical insights about what works and what doesn't, then act to facilitate incremental improvements.
Industry analysts from both Forrester and Gartner caution businesses that a "the customer is in control, dictating the speed that new channels are implemented, slamming poor service on social media, and demanding that just the right amount of information is made available on the right channel and at the right time." According to the Salesforce "State of the Connected Customer" report, 81% of customers expect the same level of service every time they interact with a company across different channels. Creating and implementing a communications strategy and content architecture plan are valuable steps toward getting customers what they want and, ultimately, ensuring a sure win.
Sources: