TLDR – if you spend any amount of time online, you've probably seen the acronym for Too Long, Didn't Read, used to denote overly long text. While used mainly on social posts and discussion forums, it's also sometimes associated with news articles and product documentation. It's a topic that comes up a lot in the communications world and, rightfully so, given decreased attention spans. At D2, we decided to explore product communications further. We launched a survey and I was curious. What would participants say?
SOME SURPRISING RESULTS
In a D2 (Documents & Design) November 2018 online survey, male and female respondents ages 18 and older were asked to comment on product communications including websites, packaging, documentation, social media, video and more. Specifically, they were asked what they use throughout the lifecycle of a product—from when they first think about buying a product and researching options, to initial setup and ongoing use. Key findings indicate:
Online product reviews and websites heavily influence consumer purchase decisions
Consumers ages 18-29 rate packaging, live chat, marketing materials and social media more helpful during the consideration phase than other age groups
50% of consumers who follow companies on social media do so to get promotions and product discounts
Findings confirm what you and other retailers may already recognize: consumers are complex creatures, representing a mix of backgrounds, cultures, opinions and behaviors. Depending on where they are in a product lifecycle, they may consult many different types of communications. Understanding this is an important part of how successful marketers create and execute an effective communications strategy.
Results, however, also shed surprising light on an area of product communications typically cast in a more narrow role: documentation, such as user manuals and setup guides. Specifically, respondents indicated:
More than 40% typically look to product documentation more often than packaging, sales personnel, in-store signage or videos when they are considering a product purchase.
73.7% rate documentation more helpful than videos, packaging or salespeople when they are looking for information on products they are considering for purchase.
This is startling news to those who consider online reviews, packaging and videos the only factors influencing purchase decisions. Many might, in fact, be shocked to learn that anyone reads documentation for any purpose, much less to inform a purchase decision. After all, industry experts have been predicting the end of user instructions for years.
"The instruction manual is slowly but inevitably becoming extinct" Mark Miodownik, British scientist, engineer and writer
"Think of owners' manuals or care guides or basic, step-by-step instructions, and you've just conjured three documents less read today than The Hardy Boys Mysteries." Leslie Stum, Stream Implementation Manager
"User manuals are mostly gone" David Pogue, American technology writer and TV science presenter
More often than not, product documentation is viewed as a necessary evil and little more than a cost center. Some think it helps reduce expensive support costs and product returns but offers little else. In some industries, product documentation is valued more as a lawsuit advantage than as a tool to enhance customer experience. For many retailers and manufacturers, documentation is, quite simply, an afterthought. It's checked off, then forgotten.
Some might think the need for product documentation no longer exists.
D2 survey results indicate otherwise. More than half of participants reported that they look at websites or read product reviews to learn more about a product they are considering for purchase. Those aren't the only resources, however, that consumers use. Not by a long shot. Nearly 50% said they look at product documentation for information on a product before deciding to buy it. This was more than packaging, salespeople, live chat, social media or videos. Not only did they look at documentation, in general, they also rated it more helpful than other communication channels.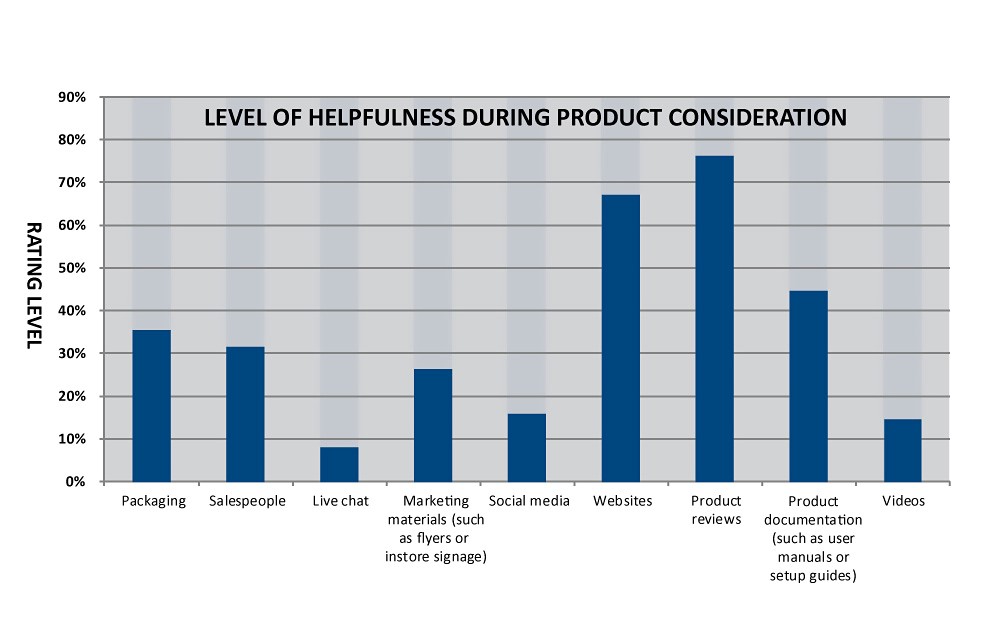 What does this mean for those selling a product or service?
PRODUCT DOCUMENTATION CAN BE A MARKETING ASSET
For some, this comes as no surprise at all. Customer-focused merchants understand that consumers access multiple communication channels for product information. They recognize the value in providing information through many sources and, with a communications strategy, make a thoughtful, deliberate effort to do so. Product documentation is one piece of the bigger pie.
With so many other sources of information available—websites, packaging, social media and more—why does anyone use product documentation when they are thinking about a product purchase?
Part of the answer lies in purpose.
For example, the primary goal of marketing communications (marcom) is to sell something. Interactive websites, flashy videos and glossy packaging are designed specifically to attract attention, to pull consumers in. Content is carefully crafted to convince consumers that they need a product and that the product in question fills that need.
Technical communications (techcom), such as user manuals and setup guides, has a very different purpose. Its main goal is to help people use something, with secondary goals of reducing support calls and product returns. To achieve that, language tends to be clear, concise and easy-to-understand. Technical communications typically provide more details, which is where TLDR might come in.
One persuades, the other instructs. Savvy consumers know that. As such, they question what's real and what's fluff. High-quality product documentation is generally perceived as more credible, so consumers trust it.
And it's not just consumers who refer to documentation when researching products. B2B companies, such as Stripe and Twilio, consider documentation a "cornerstone component" and the most important part of a marketing strategy after the landing page. Stripe is using documentation to amplify software sales. Others agree:
"technical content represents a strong case during sales proposals." Dr. Meghashri Dalvi, co-founder and director of Innovis Technology Services and Solutions Private Limited
"online product and services documentation has proven to be an immensely effective way to increase new customer acquisition and to shorten sales cycles." Aaron Fulkerson, an information technology businessman and founder of MindTouch, Inc.
Pretty surprising stuff for something still viewed by some as little more than a cost center.
What else can marketers take from survey findings?
THE LINES BETWEEN MARCOM & TECHCOM ARE BLURRING
Professional communicators and those in the industry already know this. It's a hot topic online and has drawn large crowds at Society of Technical Communication (STC) Summit sessions. It was also a focus of Adobe's 2017-18 Tech Comm Survey.
Forward-thinking marketers know it as well. They recognize that customers rely on product information from many sources to inform purchase decisions. While marcom channels, such as websites, packaging and video, can effectively communicate key product features and benefits, they are not the only way. Product documentation offers another venue to provide information that can influence purchase decisions while strengthening the brand. Customer-centered marketers consider all communications channels as valued components of a bigger customer communications strategy.
They maximize the benefit of this by leveraging unique advantages of each to help ensure a positive customer experience from the time a consumer first considers a product purchase. Many are already integrating marcom and techcom teams to create stronger, more robust content and to improve both types of customer communications. At D2, content architecture meetings include both technical and marketing personnel. We actively manage cross-channel content to streamline efficiencies and work with customers to ensure consistent messaging throughout all product communications—marketing or instructional.
If you sell any type of product, don't let a fear of TLDR stop you from letting customers get the information they want to make an informed purchase decision. Use that fear to fill both a need and a want by putting effort into the creation of high-quality product documentation. Craft thoughtful communications strategies that include product documentation, when appropriate. Encourage collaboration between marcom and techcom teams to provide consumers with the information they want—both before and after purchase. Build it into your process. Outsource, if necessary. Customers will get the information they want to make informed purchase decisions and you will gain the additional marketing support you need to effectively influence those decisions. In the end, everyone wins.
Sources:
https://mashable.com/2011/08/12/product-documentation-marketing/
https://informaze.wordpress.com/2018/01/04/techcom-or-markom/
https://3di-info.com/how-to-ensure-your-product-documentation-is-high-quality/
https://document360.io/blog/untapped-power-product-documentation-marketing-saas/
https://www.forbes.com/2010/08/07/customer-service-fulkerson-technology-documentation.html#610460c4427f
https://www.learningstream.com/2017/11/01/people-dont-read-instructions/
https://www.scientificamerican.com/article/user-manuals-are-mostly-gone-mdash-which-is-both-good-and-bad/